What exactly is the Internet of Things?
The Internet of Things consists of connecting physical objects to the Internet. By 2025, experts believe that there will be more than 25 billion connected objects in the world. The market potential of the IOT is therefore enormous.
80% of uses remain to be created
Numerous opportunities are emerging in the BtoB sector, and all sectors of activity are concerned. The economic development of a company presupposes its ability to implement and offer this type of service.
The IOT ecosystem is quite complex because it incorporates multiple technologies and areas of expertise. From a general point of view, it calls on and requires multiple competencies in the areas of hardware, communication protocols, software, the cloud and mobile tech.

Today there is a multitude of networks with different, complementary uses. This is apparent in the diagram below: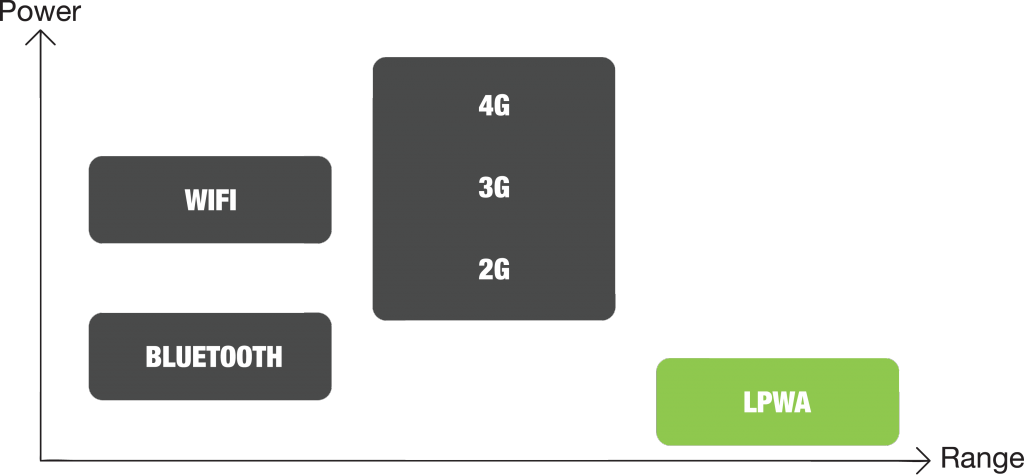 ---
The LPWA networks
The LPWAN (Low Power Wide Area Network) are long range networks with low energy consumption. These networks are specifically dedicated to the transmission of short messages between objects at a low cost.
LPWA networks use free ISM frequency bands. They are characterized by their very long range (up to 60 km in rural areas and 2/3 km in urban areas).
France is a pioneer in the narrowband, long-range IoT market. Two main technologies are used:
The UNB (Ultra Narrow Band): narrowband modulation technology
LoRa, which is based on the LoRaWan (Long Range Wide-area) protocol: spread spectrum modulation technology)
Following its experience in private international IoT networks, Qowisio has developed its own UNB technology, which it has constantly improved in order to deploy a public network in France in June 2015.
And Qowisio has gone even further! To avoid locking the final user within a technological choice, Qowisio has opened up its UNB communication protocol by making it compatible with LoRa. Qowisio thus offers the only bi-modal network to project holders, which allows them great flexibility in the development of their projects for connected objects.
With its unique positioning, Qowisio accelerates and facilitates the development of IoT solutions at a lower cost and with a full offer.